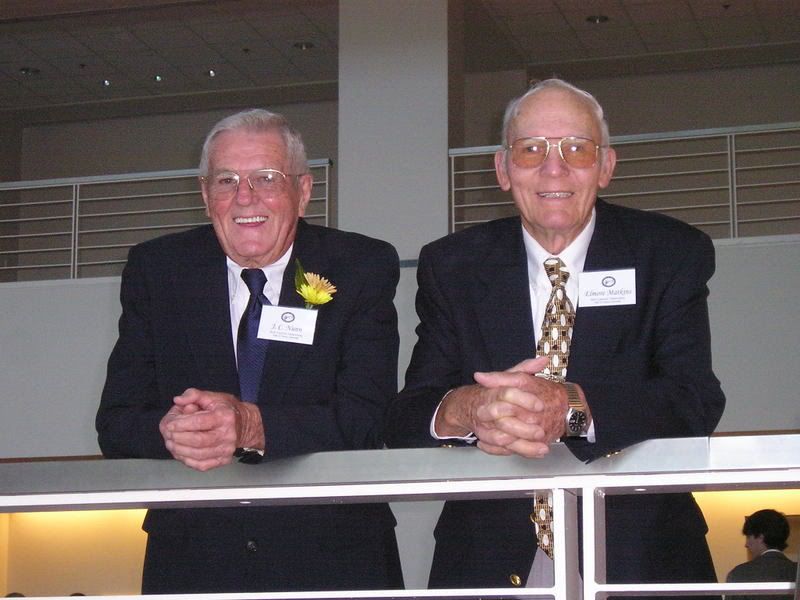 JC & Elmo Matkins
James C. Nunn was born on July 13th 1923 to Martha Etta and Joseph Franklin Nunn. He lived on the family farm near Pilot Mountain in Stokes County. He had five older sisters and six brothers of which one is still living.
JC worked on the family farm until he was drafted into the US Army during WWII. He reported to Camp Croft in Spartanburg South Carolina and went through basic training in Fort Jackson SC. He served in the South Pacific and went into active duty on May 11th 1943. He was stationed in New Guinea and the Philippines and was a combat infantry rifleman. He was discharged from the military in December 1945 at Ft. Bragg in Fayetteville NC.
He returned from the military and resided in Mt. Airy and worked for Triangle Sheet & Metal Works until 1952. He then moved to the Winston Salem area and worked for the Winston Salem Journal Sentinel until 1957. He then moved to Greensboro in 1958 and went to work for the Greensboro Daily News until his retirement in October 1985.
He was married for 57 years to Audrey May Johnson on August 21st, 1946. She was employed by Unifi and retired in 1993. JC and Audrey had one son James Ricky Nunn and JC has two grandchildren Michael and Crystal Nunn who reside in Greensboro.
JC has other hobbies including golf and both trout fishing and coastal fishing. He was introduced to trapshooting by NC HOF member Jim Brown in 1963. He registered his first targets at the Piedmont Gun Club near Rudd Station in Greensboro North Carolina.
JC has registered targets in North Carolina, South Carolina, Maryland, Virginia, Georgia, Florida, Tennessee, Ohio, Kentucky, and just recently at the first Grand American in Sparta Illinois. He won the Annie Oakley handicap at the Pinehurst Gun Club in 1965. He was the NC State Singles Champion in 1966 and HOA Champ the same year at the Piedmont Gun Club. He won the HOA at the South Carolina State Shoot in Spartanburg in 1968. He won the Southern Zone "A" Singles award when the Zone was held in Albany Georgia in 1968. He won numerous awards at the Grand and shot five times in the Champion of Champions competition. At the Grand American he placed fourth in the Ohio Handicap and was the only shooter to break a fifty straight out of 2200 shooters. He also won the Doubles Class Championship in Class "C" the same year.
JC stepped away completely from competitive trapshooting in 1997 to take care of his lovely wife until her passing in December 2003. His home was broken into and all of his target shotguns were stolen except for one Beretta AL-2. He returned to shooting in early 2004 and has been a holy terror ever since.
He has been the North Carolina State Team Captain for the last three years and has won the Senior Vet HAA at the last three NC State Shoots. In 2005 he won the Hall Of Fame Handicap with a 96 and shoot off win over Robert Batke from Ohio. He broke a 96 on his 83rd birthday at the Southern Zone in 2006 to get a ½ yard punch only to get home and find a yardage reduction waiting in the mailbox. JC has registered 26,200 targets since 2003 and has registered 76,700 singles, 57,750 handicap and 43,500 doubles since 1963.
As many of you know JC is always smiling and always in a good mood. He is living proof that trapshooting is an ageless sport and can be enjoyed into the golden years. He always has good things to say and is a real inspiration to all the people he comes in contact with.
He is currently a member of the Rockingham Gun Club and participates in the fun shoots and registered shoots at the club. He is always ready willing and able to give the locals a run for their money including JT Brewer, Elmo and others.
This picture was taken at the last Grand American to be held in Vandalia Ohio - 2005