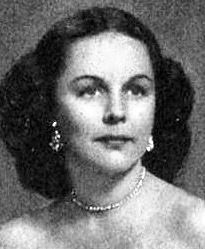 GREENSBORO Katherine Galloway, 97, passed away Wednesday evening at Well-Spring. She was born in Abingdon, VA to Dr. Ed and Eliza Hines. Her funeral service will be held at 2 p.m. Monday at First Presbyterian Church sanctuary in Greensboro and burial will be at 4 p.m. Saturday, August 27, 2016 at Knollkreg Cemetery, Abingdon, VA.
The family will receive friends 6 to 8 p.m. Sunday at the home of Kay Ivey, and in the Virginia Gilmer room at church following the service on Monday. She was an only child; however, she grew up with cousins who were like brothers and sisters. Katherine had an idyllic childhood in the small town of Abingdon, VA. After graduating from high school, Katherine attended Sullins College in Bristol, VA, where she later served on its Board of Trustees.She met her future husband, Hunter Galloway, a student at UVA, and they were married in Abingdon in 1943.
Years later, their son and then their grandson would be married in the same church. Hunter and Katherine celebrated 65 years of marriage. They both had a great sense of humor, loved having cocktails with friends and liked to sleep late. They were perfect for each other!The newlywed couple lived in Abingdon for several years, then moved to Greensboro when Hunter founded the Galloway Buick Company. They lived in the same house for 52 years. Katherine always thought they would move back to Abingdon to retire, but they made such close, loyal friends in Greensboro, they just didn't want to leave them.
Katherine has three children: Kay Ivey and her husband Charles; sons, Hunter H. Galloway, III and his wife Debbie, and Ed Galloway and his wife Georgette, all of Greensboro, NC. Her grandchildren are Patrick, Hunter, IV, Jeff, Andy, Katherine, Victoria Galloway Stern, Austin, Edward, and Charles Ivey, IV; and five great-grandchildren. She is also survived by her best friend Christine and her family at Well-Spring Memory Care.Katherine volunteered at Moses Cone Hospital for 30 years in admitting. She also volunteered at First Presbyterian Church. Katherine lived a very charmed, blessed life. She was one of a kind and was so very precious to her family. She always loved her children, husband, friends, church and Abingdon.
Memorial contributions may be made to First Presbyterian Church, 617 N. Elm St., Greensboro, NC 27401 or to Sinking Spring Presbyterian Church, 136 E. Main St., Abingdon, VA 24210.Online condolences may be made through haneslineberryfuneralhomes.com.