COHARIE SCORES MAY 6, 2017
What a great day to shoot and fellowship. The day started out nippy and stayed that way with occasional sunshine and a few drops of rain. We had 29 shooters which is a record for Coharie and enjoyed a delicious lunch by my wife, Ann. Al and I thank all our shooters, club members and visitors, who helped score, load targets and clean up. It was great to have Mark and Chris Lane shooting again after several years hiatus.
SINGLES: 29 SHOOTERS
Champ Brandon Matthews 99
AA Dan Johnson 97
B Marty Hill 98
C Pat Childers 97
D Harold Smith 96
Sub vet Michael Kato 97 Recently moved from San Diego to Clinton and a fairly new shooter
Vet Brad Barnett 96
Sr Vet Glenn Alford 92
Tony Barlanti shot his first competitive 50 straight.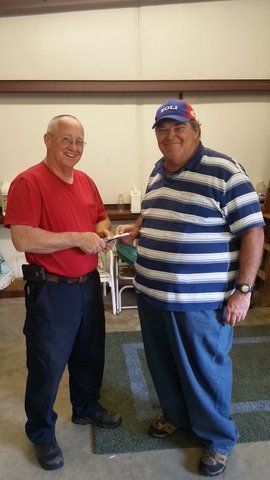 Al Williams punching Marty "Prez aka YoYo" Hill to the 24.5
HANDICAP: 28 SHOOTERS
Champ Three way tie with 93's. Jim Wilson won flip over Marty Hill. Pat Childers forfeit. (He had to leave early for a Derby party). All received ½ yard punches. This moves Jim to the 35 yard line. And Marty is yo-yoing back just in time for the state shoot.
Short Joe Steadman 91
Mid Marty Hill 93
Long Brad Barnett 91
Sub Vet Tony Barlanti 88
Vet Richard Long 85
Sr Vet P J Walker 87
DOUBLES: 11 SHOOTERS
Champ Brandon Matthews 95
AA Dan Johnson 93
B Chris Lane 90
C Marty Hill 89
D Nat Snyder 85
Sub Vet Jim Wilson 90
Vet Richard Long 90
HIGH OVER ALL: 11 ELIGIBLE. Marty Hill 280 x 300. One bird over Jim Wilson and 2 over Brandon Matthews.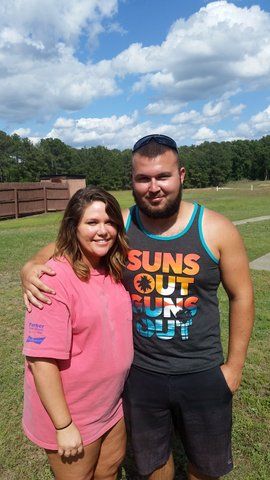 Beverly & Brandon Matthews
I hope Freddy will be able to attach pictures. Brandon Matthews and girl friend Beverly. Brandon missed the 95th bird in singles and says he lost concentration thinking about Beverly. Prez YOYO Marty Hill is punched ½ yard by Al Williams to the 24.5 line. Any bets on when he will yoyo forward again? Note the grin on Marty's face.
Mac Herring